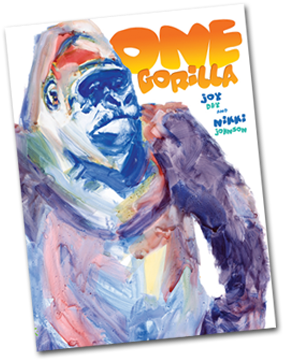 One Gorilla
by Joy Dey & Nikki Johnson
ISBN: 978-0-9853228-2-3
48 illustrated pages // hardcover

One Gorilla is about how we choose to act each and every day, about choosing to make our personal jungles better places. In the day and age of bullying, it's about holding out a hand (or a trunk) to help someone back on their feet.
"Colorful creatures show us just how nasty things can get in this lush watercolor jungle and how little it can take to turn it
around.
One Gorilla provides the perfect chance to ask a child
how their day went, a way for them to talk about
what's good and what's not in their jungle, a way
for them to think about what they can do to
make things better."